YEP! He popped the question!

It happened last monday, but I haven't been able to post anything because he still wants to be old school and ask my parents, so we kinda have to be hush hush for a few days.

But they're in a house with no internet now, so we're all good. Kills me not to shout it though.

THE SCOOP:

After going to dinner, we were driving around and ended up at temple square. We walked around and sat down in front of the reflection pool to look at the temple.




We talked about lots of things, made each other promises, then he pulled out the ring, got down on one knee and asked me. I felt like this:





And of course, the eye candy second only to my fianceé: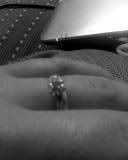 YAYAYAYAYAYAYAYAYAYAYAYAYAYAYAYAAAAAAAAAAAAAAAY!

I'M THE LUCKIEST GIRL ALIVE!!!!!!!!!!!

We're so happy. I'll let yall know more details as we get going.

In the meantime be prepared to be nauseated by the cuteness and adoration we exude to anyone within a 10 mile radius.